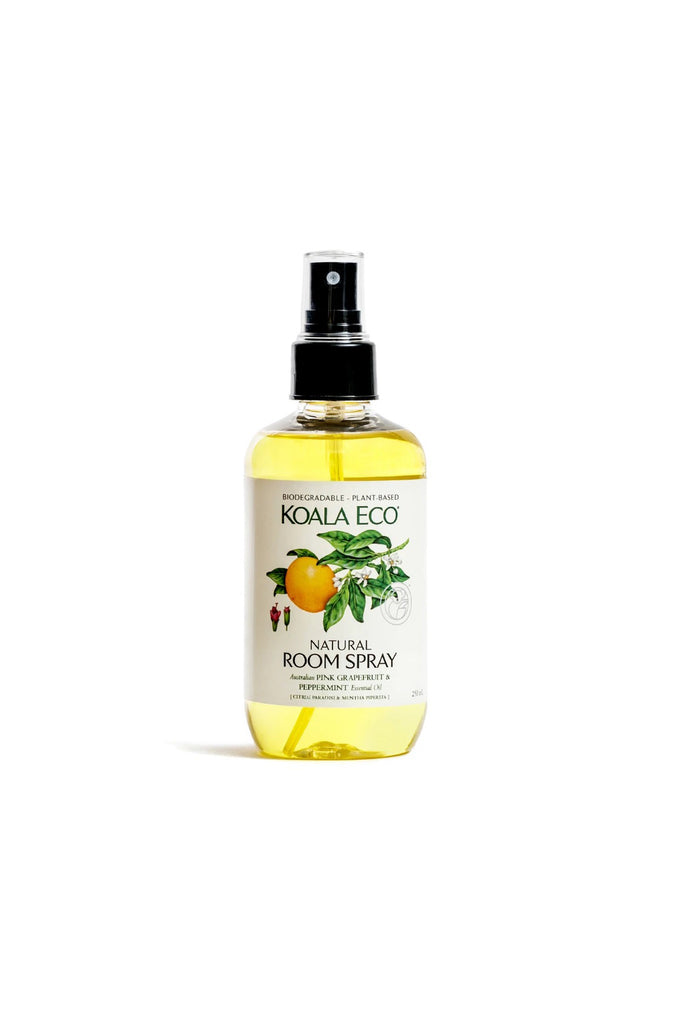 Our Australian Pink Grapefruit and Peppermint Room Spray combines nature's most aromatic plants in one invigorating formula. This biodegradable and eco-friendly plant-based spray effortlessly and safely brings the luscious scent of the Australian bush into your home, without the need for toxic chemicals.
Allow this uplifting mix of pink grapefruit and refreshing peppermint to lift your spirits, help keep insects at bay, and bring the scent of 'real' Australia into your home.
Safe, powerful, plant-based made with Australian essential oils.
Kind to your family and the environment. Everything we make is: biodegradable, plant-based, never tested on animals, grey water and septic safe. We don't use: palm oil, dyes, masking agents, synthetic perfumes, chlorine, bleach, sodium laurel sulphates & phosphates.
Natural

Effective & powerful

Refreshing scent

Eco-friendly

Non-toxic

No synthetic perfume
Plant-Based Ingredients: Citrus Paradisi (Pink Grapefruit essential oil), Mentha Piperita (Peppermint essential oil), Aqua (purified water) and sugar-based biodegradable alcohol.
NO NEW PLASTIC CREATED WITH THIS BOTTLE! 100% POST-CONSUMER RECYCLED BOTTLE AND RECYCLABLE! REUSE-REFILL-RECYCLE!